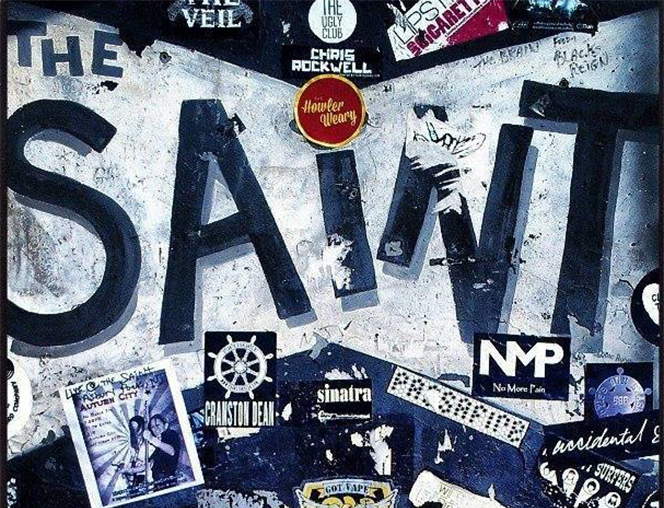 Friday, April 3
Emo Night Karaoke
Doors 8:00pm, $10/$12
Dark City Entertainment Presents Emo Night Karaoke! Emo Night Karaoke is a pop punk and emo karaoke with a live band featuring members of Just Surrender, Thieves and Villains & Young English! Check out the song list below! Song sign ups are first come first serve via the iPad at center stage. 9pm song signups, 10pm start - 18+ #emonightkaraoke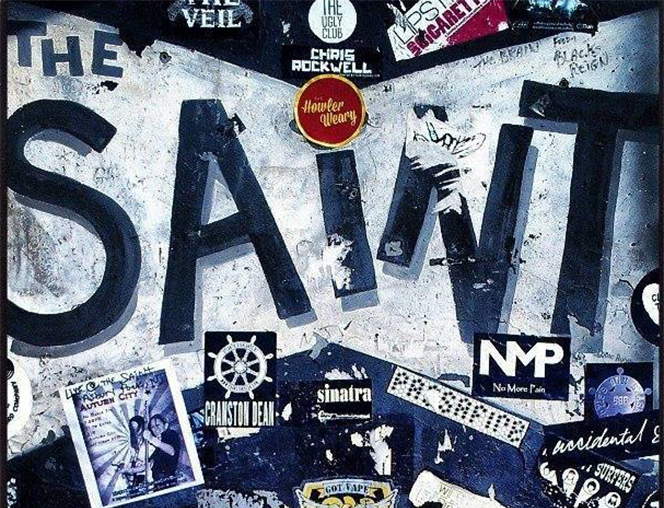 Saturday, April 4
POSTPONED: The Jacks
Doors 6:00pm
New Date To Be Announced
Saturday, April 11
Doors 2:00pm, $22.50/$28
UMT Presents A Light of Day Acoustic Matinee featuring Joe Grushecky and special guest Joe D'Urso's Acoustic Excursion. Join us for an April afternoon of stirring songs and homespun stories by two of the best touring Americana artists in the business! ("For almost 40 years publications such as Billboard, Rolling Stone, Village Voice, No Depression and many others have hailed Joe Grushecky as one of rock & roll's most talented singer-songwriters.") Doors 2pm / Show 2:30pm.
Saturday, April 11
Doors 7:30pm, $10
The Saint Presents the mighty return of Autumn City (An organic indie rock trio from New Jersey, inspired by life, heartbreak and rising above the ashes. Driven by passion, Autumn City are Audra Thomas (bass), Amanda Kelly (percussion) and Aster Pheonyx (guitar/vocals).) (10pm) / Chin & Blum (9pm) / Bonnie Boland (8pm) / Bern & The Brights (11:15pm).
Tuesday, April 14
Doors 7:00pm, TBA
The Saint Presents The Mallett Brothers Band (An independent rock and roll Americana / Country band from Maine.) (9:30pm) / Them Coulee Boys (8:30pm) and special guests. On Sale: Friday, Feb. 7th, 2020, 10am EST.
The Mallett Brothers Band is an independent rock and roll / Americana / country band from Maine. Their busy tour schedule since forming in 2009 has helped them to build a dedicated fanbase across the U.S. and beyond while still calling the state of Maine their home. With a style that ranges from alt-country to Americana, country, jam and roots rock, theirs is a musical melting pot that's influenced equally by the singer/songwriter tradition as by harder rock, classic country and psychedelic sounds.
Friday, April 17
Doors 6:00pm, $12
The Saint Presents (Early Show) From Clearwater, FL, The Ries Brothers (The Ries Brothers (pronounced "Rees"), a duo from Clearwater, FL, blend rock, blues, funk, and reggae into a soulful-sophisticated sound. Older brother Charlie sings lead vocals while simultaneously playing drums and keyboard bass giving the band its unique and full sound. Younger brother Kevin Jordan completes the band's "sonic creativity" on guitar and provides background vocals and co-writes many of their songs.) with special guests.
The Ries Brothers started playing the Florida bar circuit as young teenagers where they were discovered by the band Chicago and taken out on two tours prompting them to leave school and focus on music full-time.
The Brothers inimitable live performances have captured fans across the musical landscape leading to marquee support slots and major festival bookings. After Supporting a G Love & Special Sauce tour in 2018, G Love asked the brothers to tour as his backing band and open his solo tour. They repeated that feat again in 2019. In between, the brothers completed their own solo tours in addition to supporting major artists like Stick Figure, 311 (invited to perform on the 311 cruise immediately after opening for 311), Ballyhoo, Pepper, Galactic, Stephen Marley, and playing major festivals Rootfire, Cali Roots, Gasparilla, Sun Fest, and Summer Camp.
The duo recently completed their second full-length album, Paint Your Emotion, produced by John Agnello (Screaming Trees, Dinosaur JR, Patti Smythe). The new record leans towards alternative rock, showcasing the energy one would find at a Ries Brothers live show. A live streaming only EP of the duo's Sugar Shack Sessions was released in Fall of 2019 on Ineffable Records to accompany their current national tour with Iya Terra, while the new album will be released in early 2020.
The Ries Brothers have been named as a breakout artist by Creative Loafing, a favorite band by The Tampa Bay Times, and were two out of 25 selected from the state of Florida to participate in the exclusive Los Angeles Grammy Museumís Music Revolution Project. There is truly something going on here. Come on down to a live show to see for yourself.
Saturday, April 18
Doors 7:00pm, $15/$17
House of Independents Presents from Monterrey, Nuevo Leon, Mexico, The Warning (They opened two dates for The Killers in Monterrey and played in the Hell & Heaven festival in Mexico City + ForceFest in Teotihuacán, two of the most important Rock festivals in Latin America to amazing response.) and special guests.
Friday, April 24
Doors 6:30pm, $13/$15
(Early Show) The Saint's 25th Anniversary Series of Shows. The Saint Presents From Shreveport, LA, Dylan LeBlanc (Cautionary Tale: a collection of shimmering, arresting songs with the same haunting vocals that caught the attention of Lucinda Williams and Bruce Springsteen, now with a sharpened edge honed by hastened maturity. New Release out now on ATO Records, "Renegade".) On Sale Feb. 7 at 11am.
Saturday, April 25
Doors 7:00pm, $10/$15
Guy Heller and The Saint Present punk-folk-meets-jam-band-from-hell feat. From Philadelphia, PA, Bunny Savage and the PLIBmen featuring Guy Heller from The Moistboyz (Elements of punk folk, classic metal, jam band, thrash, blues, early punk/post-punk, dork rock.) / From Philadelphia, PA, Mikrokosmos feat. Guy Heller and Bill Fowler from The Moistboyz / From New Hope, PA, Bill And Fred's Excellent Adventure (Two guys from a band called Spitune doing their version of a rock and roll acoustic duet. Bill Fowler - Acoustic Guitar/Vocals and Fred Moore - Acoustic Guitar/Vocals.)
Sunday, April 26
Meg Whalen
Doors 3:00pm, $10
(Early Show) Moto Records Presents Meg Whalen (CD Release Party. Lakehouse Music alum Meg Whalen is proud to announce the release of her debut EP, "Blue Sky Effect". As a singer/songwriter, Meg Whalen shares her meditations on life and the path to rediscovering artistic identity. Her songs reference a variety of styles creating a blues laden folk and indie-pop sound.) / Whiskey Thursday (Formed in the summer of 2014, with one goal in mind ... Having a good time! Coming from various backgrounds.)
Tuesday, May 5
Doors 7:00pm, $25/$30
Asbury Cafe and the Saint Present From Nashville, TN, Griffin House (New Release "Rising Star" Out Now).
A seated no talking during the performances show. Coffee, tea, beer and spirits served all night.
"Rising Star" is not a phrase one would normally use to describe an artist like Griffin House, who has been touring for more than 15 years and has recorded over 12 studio albums. RISING STAR Documentary: https://tinyurl.com/AmazonRisingStar.
The title of House's current release, Rising Star, references the first track on the album which tells the story of a character who moves to Music City, like so many do, with a guitar and a dream. Although not intended to be autobiographical, the listener gets the sense that this comical and fictitious tale could hardly have been woven by someone without a similar life experience to the protagonist in Rising Star.
Indeed, House's story began in much the same way. Moving to Nashville as a young man in 2003 with not much more than a guitar and a handful of songs, he took a part time job downtown at a Broadway gift shop, biding his time before he caught his big break. That big break came after just a few months, in the form of a phone call from Island Def Jam Records, which jumpstarted his career and led to him signing with CAA and Nettwerk Records.
After that, things happened quickly for House. His 2004 debut album Lost and Found was lauded by music critics such as Bill Flanagan (Executive VP MTV/VH1 Networks) who featured House on the CBS Sunday Morning show as one of the "best emerging songwriters." He began touring, opening for acts like John Mellencamp and The Cranberries, and found himself meeting people like Bruce Springsteen and Willie Nelson. By all accounts, House seemed poised to be more of an "overnight success" rather than a "rising star" - but that's not exactly how things turned out. "I've been a "rising star" for the past 15 years" House jokes, "It's a slow rise."
RISING STAR Documentary - Released Nov 2019
"Rising Star captures life on the road for singer/songwriter Griffin House, an artist who has navigated the ups and downs of a 15 year music career. Throughout the film, we witness the everyday struggles of tour life, as Griffin wrestles with raising a family, maintaining sobriety, and finding the spark to keep the music alive."
Friday, May 8
Doors 7:30pm, $15
(Early Show) The Saint Presents From Boston, MA, Sarah Borges & The Broken Singles (8pm) ("I would say that my sound is straight-up rock and roll, but itís the sum total of what my record collection looks like.) and special guests. The Saint's 25th Anniversary Series of Shows, 1994-2019.
Wednesday, May 13
Doors 7:30pm, $10/$13
The Saint Presents from Asheville, NC, The Broadcast (Fronted by powerhouse vocalist Caitlin Krisko, The Broadcast is a psychedelic soul rock band hailing from Asheville, NC. Their soon-to-be-released, highly-anticipated album produced by members of Tedeschi Trucks Band, The Broadcast steps into the arena of rock and roll night after night, delivering some of the most electrifying live shows in the music world today.) / Colossal Street Jam and special guests.
Caitlin Krisko's sweeping lead vocals range from a whispered hush to a lioness roar, captivating audiences across the United States and Europe. The new album, "Lost My Sight," due out in the spring of 2020, expands on the band's signature psychedelic soul rock sound, and represents the band's most exciting LP to date.
The Broadcast has shared stages and festival lineups with Mavis Staples, John Prine, St. Paul & The Broken Bones, The Wood Brothers, Brandi Carlile, Keller Williams, Nicki Bluhm & The Gramblers, George Porter Jr. (Funky Meters), Betty LaVette, Charles Bradley and The Marcus King Band, among others.
Friday, May 22
Doors 7:30pm, $12/$15
Carhart Presents From Philadelphia, PA, Ruby the Hatchet ("One of the underground's most prominent purveyors of psych-born thunderous rock since their formation." - Loudwire) with special guests.
Sunday, May 31
Doors 7:00pm, $10/$12
House of Independents presents Ezra Bell and special guests.